Posted on June 07 2022
How to Trim Your Stamps
Shared from Darkroom door
26 May 2022

When you purchase a Darkroom Door Rubber Stamp Set, it comes as a sheet of rubber mounted on cling foam inside a DVD sized storage case. The stamp set can be used as a whole sheet or you can trim out the stamps individually for more versatility. Darkroom Door rubber stamp sets are sold as full sheets so we can fit more stamp designs on each sheet, including smaller stamps that would not be possible if the stamps were pre-cut. This allows us to offer more varied stamp designs that you can use to create some wonderful stamping effects and projects!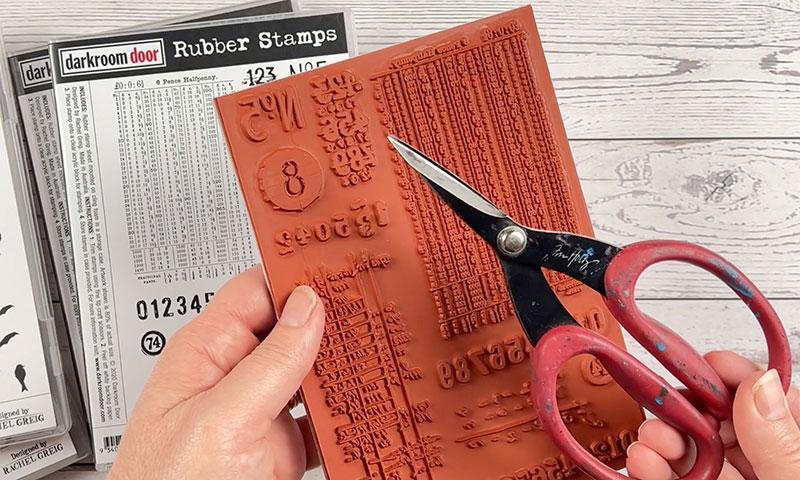 To trim out the stamps, we recommend using Tim Holtz Tonic Scissors as they are non-stick serrated scissors that are capable for cutting through the cling foam and rubber easily. Here's a few other details about these scissors:

• Resistant to rust and corrosion
• Non-stick coating minimises adhesive build up
• Extra large Kushgrip handles for comfort and less hand fatigue
• Micro serrated edge great for detail cutting
• Protective plastic cap for storing sharp pointed blade
• Excellent cutting on all types of material including sheet rubber, vinyl and adhesive backed papers.
You could also use Kai scissors or any other heavy duty fine tip scissor that can cut through the thickness of the rubber and cling foam.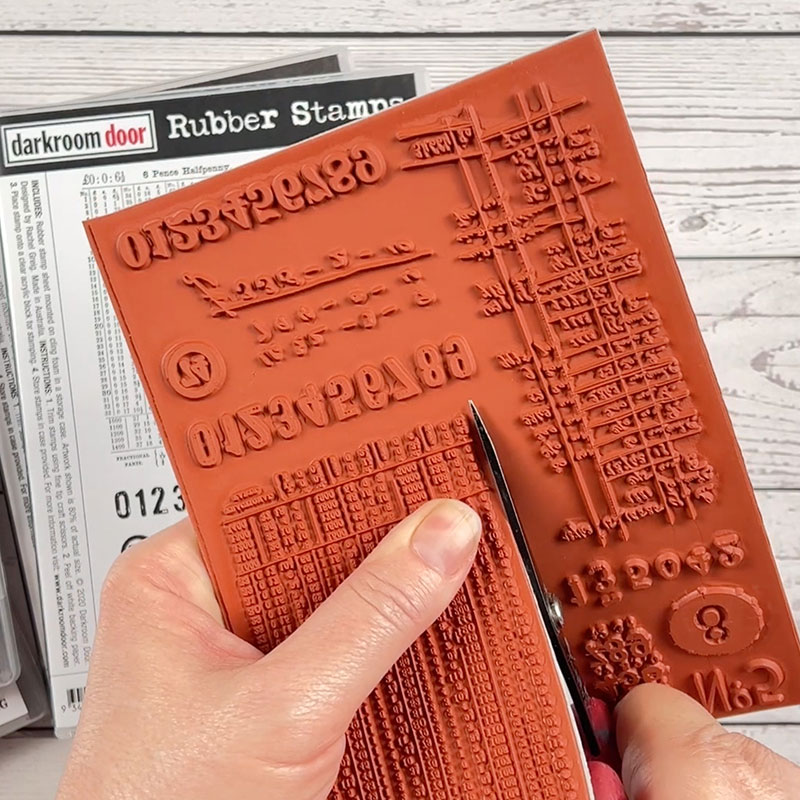 Here's how I like to trim the stamp sets.
I like to keep the white backing paper on the foam side while I'm cutting the stamps as I find it keeps the stamp from moving or 'squishing' in the scissors. However you may prefer to remove the backing paper first. Both ways will work fine, so do whatever feels right for you.
Look over the stamp designs and find an area that would be the easiest to cut apart. I look for straight lines or areas where I can cut the larger stamps out. This is a good place to start trimming the stamps.
Trim out each stamp using straight lines, making sure your scissors are not angled underneath the foam. You want as much foam as possible underneath your stamp to give it stability when you stamp.
When using fine tip scissors like the Tim Holtz Tonic Scissors, you can trim very closely to the stamp and go into the little nooks and crannies to remove any excess rubber.
When you have trimmed all the stamps, place them back into the storage case for easy storage.
When you are ready to stamp, simply peel the stamp out of the storage case and place onto an acrylic stamping block to stamp. When you are finished stamping, clean your stamp with a stamp cleaner and place back into the storage case.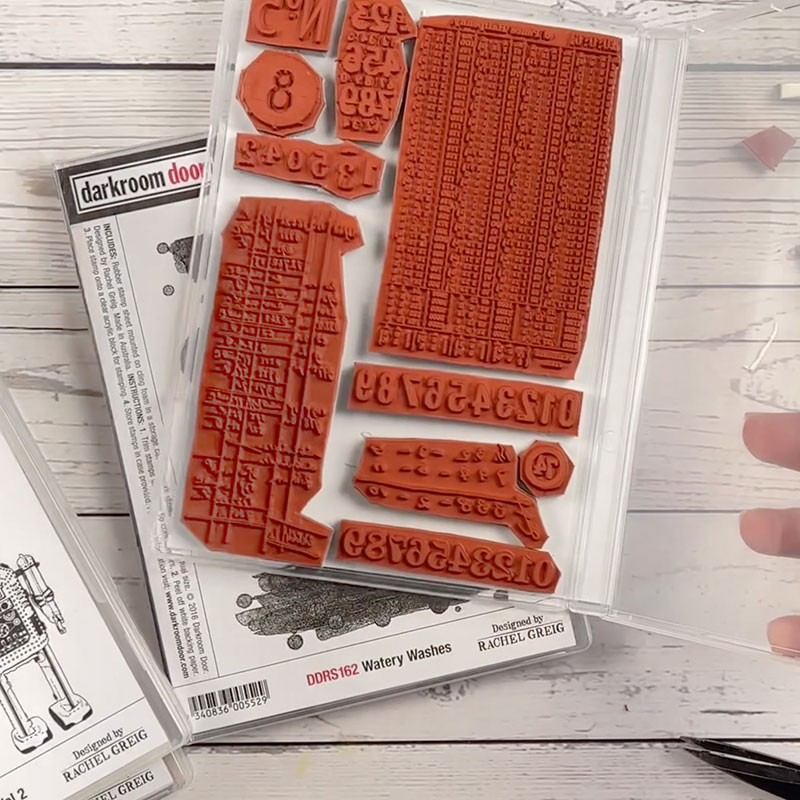 Darkroom Door rubber stamps are known for their durability, deep etching and high image detail. When stored correctly they will last you many years!
We have filmed the process of trimming out a full stamp set which you can see here: